Bliss Rocked: My Favorite Moments from the Rock Your Bliss in Mexico Retreat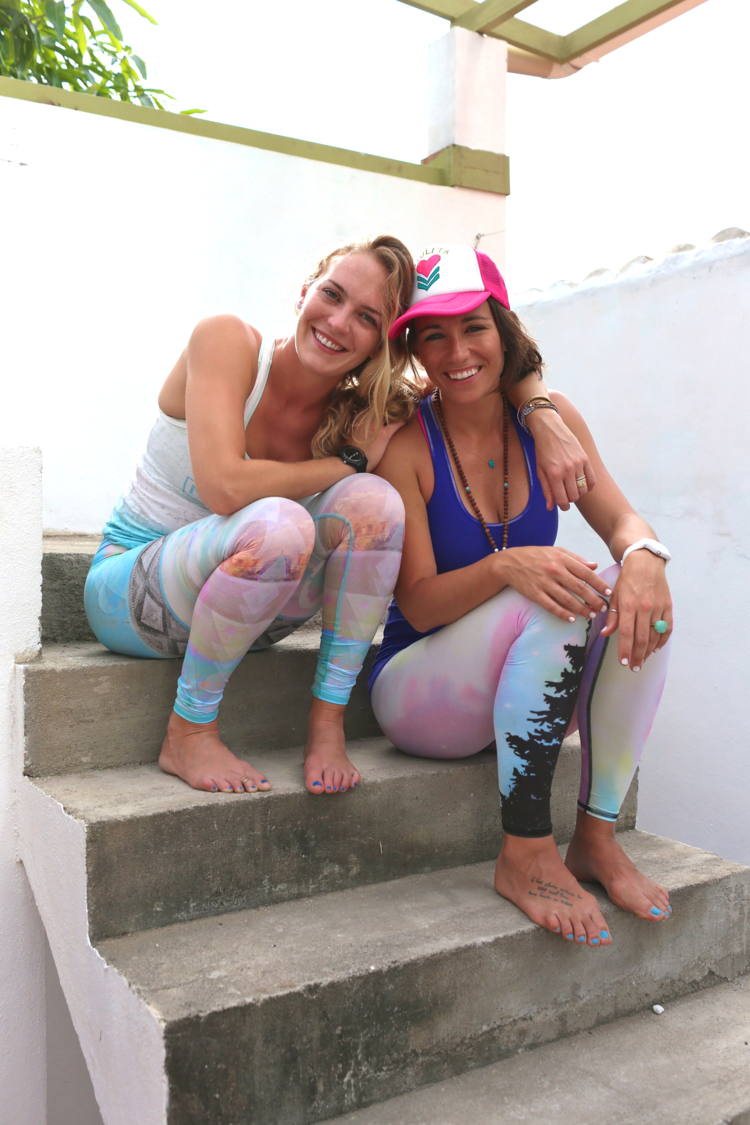 Written By Tess DiNapoli
Photos Credit: Sera Lindsey
In February, I joined Jacki Carr and Mary Beth LaRue-Aporta for their first Rock Your Bliss yoga retreat. I love to travel and travel often, but this was my first yoga retreat. The setting was Sayulita, a little town on the Pacific some 45 minutes outside of Puerto Vallarta and felt like an even more laid back Kaua'i. "Travel brings a certain kind of magic we forget in our daily lives," Mary Beth would remind us of this fact throughout our journey, on the mat and off. Our first practice together was in the afternoon on Sunday, February 2nd, as warm breezes dried our sea-sweat-salty skin after a morning adventure on stand up paddle boards.
Sayulita rocked my bliss.
Strong, compassionate yoga classes with Mary Beth LaRue in the mornings, fueled by a full night's rest (most mornings) and a good cup of coffee, fueled by the sliver of sea visible through the jungle as you stared past your fingertips in Warrior II from the yoga pagoda. Days of adventure with the group or small groups; lazy lunches in town people-watching, shopping for locally made goods in small stores and from street vendors.
Late afternoons and early evenings were spent with Jacki Carr, where we explored our personal values, our legacy, the power of language, vision and goals. Everything we did interwove perfectly with everything else. Below, you'll find some of my favorite moments and memories.

Moments on Playa Muertos Beach. We wove our way up out of town, through a jungle graveyard and down to a secluded beach book-ended by big rocks, framed by hills dotted with a few thatched roof sprawling homes and forest, shaded by palm trees. We dined on fresh oysters and spent time with ourselves and each other, under the sun and in the waves
Idling away free time at Pedrito's Tacos downtown. I'd never really indulged in coconut shrimp tacos before, but the afternoon I spent with Sera Lindsey, shopping our way to hunger and stopping for a late lunch at Pedrito's, was perfection. Our new friend McCoy danced with Sera in the streets as she shot photo after photo, finishing off with her teaching him how to use the camera, too.
The day we unplugged. We arrived for our morning practice. Jacki came around with a bag and held out her hand for us to give her our cell phones, which most of us were using as cameras. I gave it over happily; I was excited to not have my phone 12+ hours. I felt connected and liberated simultaneously. In exchange for our cell phone, Jacki handed us a watch that sweetly said "NOW" on its face, created by tiny time machines as a reminder to stay present.
Ceramic painted skulls and the colors of the town. We popped into a ceramics store with bright yellow walls, featuring hand painted skulls, painted gritty-beautiful panels and other decor. The gallery's artist was carefully painting peacock feathers on a yellow skull, catching my eye. Purchasing a piece of art is always meaningful; purchasing a piece of art when you got to see it in the making is even more so. I was there two days later once it was ready; she had held it for me.
Surfing lesson.
I love water, and being in places like Sayulita cements that love. Salt water cures all. The staff of WildMex delivered, yet again (first in a stand up paddle board excursion, then in an boat trip to an island, and now in surfing). Surfing resonates with yoga; it is a practice in patience, in letting go and in being confident.
Learning above the line/below the line work with Jacki. This work allows you to measure and reflect on when you feel low: what comes up emotionally and physically when you feel reactive, and what kind of shift you can create to overcome it. Our afternoons with Jacki were about exploring, writing and discovering tools to shape our daily lives and future lives in an inspiring, fulfilling way.
That first day, with its slow pace of introductions and arrivals, greeting hugs from Mary Beth and Jacki, finding my room with welcome gifts in the form of the moleskin Rock Your Bliss journal and lip balm from Zen Society. A group of us left the hotel to wander. We grabbed margaritas and pina coladas to go from Medusa's Bar and strolled down the dirt road into town. Sipping coconut water on the beach, a girl with coppery dark skin and long black hair balanced on a rock practicing yoga in the shore. The timing was uncanny as she moved from one balancing asana to another, her drishti the Pacific's horizon. That night we received the Rock Your Bliss mala by Tiny Devotions. Lightly fragrant sandalwood beads held a delicately cut piece of white jade, symbolizing highest potential, with smaller beads of turquoise, white jade and rose quartz.

Morning practice with Mary Beth.
Most mornings were cool and sunny, with light breezes. Each morning would bring something new on the mat, and she would gently encourage us to step beyond our comfort zone, either in holding a challenging asana a bit longer, or not being afraid to connect with others in partner yoga, exercising trust in ourselves and trust for each other. We fell in love with ceramic cups full of Mexican coffee with a touch of brown sugar; it became like a morning ritual of waking before dawn, slinking upstairs, sipping coffee, journaling, practicing.
Spending time with my teacher and friend for a solid seven days, totally connected to my practice, to her guidance – on and off the mat – and the inner strength she helps us realize is always there.
Surrounding myself with genuine people passions, shared visions – sharing, support; group adventures; partner yoga; vision boarding – all in the safe and sacred little space we carved out for our sangha at the beautiful Hotelito de los Suenos.
rock. your. bliss.
The Photographer: Sera Lindsey is a photographer and writer based in Los Angeles, interested in travel, holistic health, and all things joy. In her spare time you can find her at a yoga class, the flea market, movie theater, or most often at home drinking tea or tequila. Connect with Sera on her website and portablesera.com and @portablesera on twitter.
The Writer: Tess DiNapoli is a yoga teacher, writer, freelance editor living in Los Angeles. When not on her yoga mat, she loves good movies, hiking, reading, journaling, and traveling. She has a big love for coffee with brown sugar (thanks largely to Sayulita), cuddly cats, lounging at home with good tunes, incense and a glass of wine. Connect with Tess via her website, tesslynne.com or Facebook @tesslynneartyoga.
For more information about the Rock Your Bliss Movement, click here.